---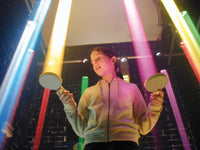 OptiMusic Opti Beam AV System
SE341
Regular price op incl VAT: £4,198.80
OptiMusic® - Interactive Light Beam Technology Controlling Music, Sound FX, Images, Videos & Lighting
The system enables users to interact with colourful beams of light (choose from 2, 4, 6, 8 or 12 beams) simply by passing a hand or other body-part through the beams - or by using a hand held reflective "Magic Wand". Each interaction triggers all types of audio-visual events in real-time.
This multi-sensory system revolutionises the way users communicate, learn and make choices. Its versatility enables it to be used as a musical instrument, an interactive story telling device, a virtual switch that is an effective communication aid. Users are empowered to influence their own environment. It can be calming and stimulating, fun and educational, challenging and creative.
Main Features:
No floor space required
Modular - flexible design
Low maintenance
Turnkey Operation
Proven to be an important tool for challenging and encouraging participation, key benefits include:
Improves understanding of cause and effect
Stimulates motor skill development, particularly hand-eye coordination
Encourages users to listen and respond
Helps users build a more positive self image and self esteem
Encourages interaction - with the beams and others
Aids the ability to make choices and demonstrate preferences
Encourages users to move/use physical energy
Heightens sensory awareness and increases concentration span
Aids visual memory
Improves musical skills
Promotes healthy fun and enjoyment
Educational Standards:
OptiMusic has wide-ranging emotional benefits, actively supporting standards set by the National Curriculum including those for literacy and numeracy, music and drama.
Story time with Sounds and Images:
Users participate by triggering sounds and images that reinforce the story line. Educational categories include Nature, Music, Numeracy, Literacy, Science, Technology, Transport, Health & Safety, Food & Drink, Signs and Symbols and The World Around Us.
Monitoring Progress:
To assist schools and care providers to meet national standards, we offer progress monitoring templates which enable facilitators to record, assess and evaluate user's level, consistency and precision.
Seminars:
OptiMusic® are constantly touring the UK, running seminars, demonstrations, training and workshops.
COVID-19
During the COVID 19 Global Pandemic we here at SensoryPlus based in the UK and complying with all UK guidance and restrictions where put in place have experienced significant delays in both our supply chain and ability to work safely. We thank all consumers who have contacted us for updates for their patience during this very difficult time and we are now working as fast as we can on the backlog of both online orders and our manufacturing process.
As a lot of what we do is bespoke and designed to last for many years with high levels of build quality this may take a little time and we would encourage anyone seeking clarification on their order to contact us for further updates.
Thank you once again for your understanding, stay safe, stay well and together we can beat this.
Delivery
All prices exclude delivery charges. Delivery charges are applicable per order and based on the total order value before VAT. SensoryPlus Ltd reserves the right to alter prices without prior notice.
Standard Delivery times are estimated at 4 weeks (with the exception of COVID-19 above) with bespoke manufactures at up to 6 weeks, please contact us on 01302 645 685 or email us on info@sensoryplus.co.uk for further information. Estimated delivery dates will be provided upon confirmation of your order.
Heavy or delicate items are usually delivered direct by SensoryPlus Ltd. These deliveries are subject to availability and Force Majeure. In circumstances of delay beyond our control, items can be collected with a full delivery refund provided and every effort will be made to minimise further delays. We reserve the right to amend these terms.

For emergency situations please call us and we will do our very best to meet your immediate needs.
UK Carriage Charges
For SensoryPlus items delivered to the UK Mainland, the delivery charge is based on the total order value before VAT and calculated as follows:
(Please note that our carriage charge is exclusive of VAT)
Less than £30 = £6.16
£30 - £99.99 = £12.92
£100 - £199.99 = £19.75
£200 - £299.99 = £29.95
£300+ = £39.95
Items which required specialist transportation due to physical size and weight are exempt from this delivery schedule and will attract our higher rate of carriage - this will be shown at checkout.
Heavier Items
Some of our items are heaving or difficult to carry, and either attract a higher charge or must be delivered manually. Please see below these costs (also inclusive of VAT):
Heavy Items (e.g. therapy roll) = £85.006
Very Heavy Items (e.g. waterbed) = £150.00
Very Heavy Items Long Distance (200+ Miles from Doncaster) = Upon Quotation
Outside the UK Mainland
Non-mainland UK including the Channel Islands will be charged at the current market rate subject to confirmation from the SensoryPlus Head Office.
For further details or specific costings please contact the SensoryPlus Head Office.+44 (0)1302 645 685